If you know some history, you know that it's not always the first person to use a phrase or play a game that gets credit a hundred years later. McDonald's wasn't the first restaurant to sell hamburgers, but they developed a way to sell billions. McDonald's equals hamburgers. The rules of golf carry a similar divinity, including how many golf clubs to carry in your golf bag.
Now don't get me wrong, the Scotts get credit for the 18-hole game of golf, but fabrics of the sport developed in different countries and expanded in popularity but weren't worldwide until the turn of the 20th century. Still, the Royal and Ancient Golf Club of St Andrews, (often referred to as R&A) and local courses are a dream golf vacation for many players.
The 14th hole on the Old Course at St Andrew's also gets credit for one of the most fearsome golf hazards: the "Hell" bunker. This monstrous trap runs more than 300 square feet with a steep face of nearly seven feet. You never plan to get gobbled up by the bunker, but you can equip yourself with the essential golf clubs to escape.
A sand wedge offers a loft of 54 to 57 degrees, but a deep "bunker" is treacherous, and a lob wedge with a pitch from 58 to 64 degrees might work better, depending on your lie.
Your must-have clubs vary by course and experience. Often you won't know exactly which clubs you need until you get a good look at a scorecard or play your first round.
When you play River's Edge, Bend's top golf course, you'll need some precision to meet challenges, so wedges are your friend. But how to choose the right clubs?
HOW MANY CLUBS IN A GOLF BAG?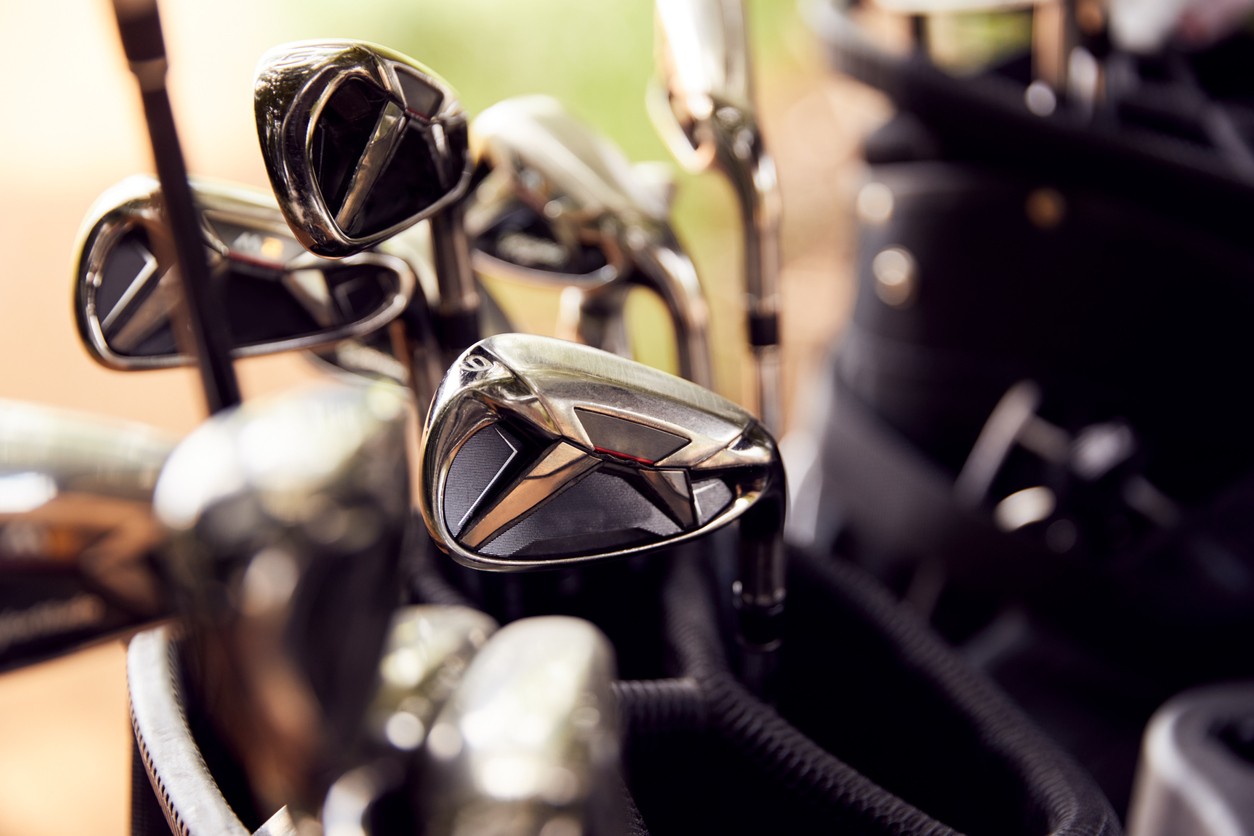 Years back, junior sets consisted of a 3, 5, 7, and 9 iron with a sand or pitching wedge and 1-3-5 wood. In 1913, USGA president Robert Watson entered 20-year-old former caddie Francis Ouimet into the U.S. Open golf tournament (without his knowledge) to help round out the field with a formidable local amateur.
Ouimet won the tournament at The Country Club in Brookline, Massachusetts after an 18-hole playoff with just seven clubs in his golf bag! Today, the maximum number of clubs allowed under USGA rules is 14, which may or may not be arbitrary. You can carry whatever you want, but professional golfers and those adhering to United States Golf Association rules demand a 14-club limit.
Hickory shafts were popular for decades, providing flexibility of approach and rewarding deftness in-stroke to golfers who managed their shots like a craftsman. And then came steel-shafted clubs, which offered little to those previous experts. To compensate, players (or their caddies) took to carrying multiple clubs; twenty, even thirty different clubs.
Although the steel shafts were banned in 1914, their popularity coupled with pressure from manufacturers eventually turned the tide. A decade later, they were legalized, but something had to be done about golf bags jammed with clubs.
Citing the lack of playing advantages of steel shafts and the dwindling supply of good hickory, the USGA limited the number of carried clubs to 14 in January of 1938 and the R&A conferred in May of 1939 – with a penalty of disqualification for carrying excess clubs. Yikes.
In 1956, the penalty for carrying an excess club was changed to two strokes per hole for each violation but could still carry a maximum penalty of 36-strokes for a single round. That rule was further capped in 1964 with the loss of two holes in match play and a maximum of a four-stroke penalty in stroke play (per excess club). The current modification to loss of two holes or four strokes became law in 1968.
Today, both the R&A and USGA share equally a beautiful history of competition, sloth-like adaptability, and tragic fashion.
PROFESSIONAL ERRORS
Even the most experienced golfer can fall prey to serious rule infractions, as highlighted by PGA tour and 1991 Masters winner Ian Woosnam. In 2001, Woosnam finished the third round of The Open Championship tied for first place. However, due to an excess club in his bag at the start of his round, he drew a two-stroke penalty.
Although his caddie was responsible for the 15th club error, the additional club cost him valuable penalty strokes and dropped him from first to tied-for-third after the final 18.
While a competitive round may limit you to 14 clubs, you can always replace a damaged club with an additional club from outside your bag. The new club doesn't have to be an exact swap – such as 9-iron for 9-iron. You won't incur a stroke penalty for the exchange if the damage incurred was from regular play, not slamming the club to the ground after going from beach to beach.
THE ESSENTIALS AND WHY YOU NEED THEM
After the USGA and R&A ruled that a golf bag must hold a maximum of 14 clubs, the standard set soon included a 1 to 9 iron, sand or pitching wedge, three woods – driver, three and five – and a putter. Of course, golf gear has changed significantly since then.
Today's golf ball selection includes balls that are designed for more spin, less compression, more durability, and, of course, more distance. Golf clubs have changed for the better, with graphite shafts that help increase swing speed, grooves for better traction as the ball strikes the clubface, and putters with different benefits.
1. CHOOSE A PUTTER
Many players believe their most important club is their driver, but I'd vote for the putter. Not every hole requires a driver, but you'll need this essential club for 30 or more strokes.
Bernhard Langer has made a career of championing the standup long putter. Along the way, he's won three PGA tour events, 42 European, and 42 PGA Tour Champions. His skill level is very high overall, but his putting is excellent.
To win, you've got to putt like a champion. To improve your short game, get on the practice green regularly and try multiple putter styles. Perhaps that Langer long putter is for you. Or maybe a solid mallet putter. Check the different styles in the River's Edge pro shop for selection and advice. The pros there know their game!
2. YOUR WEDGES CAN ROCK
Wedges also account for multiple strokes on each hole. You can manage with a standard pitch and sand club, but you'll find an extra wedge invaluable. When you're about 100 yards out, a wedge is your best friend. Between your pitching and sand wedges, use a gap wedge, with a loft of 46 to 54 degrees.
To get your ball up fast, use a lob wedge for about 80 yards (65 for the ladies) using a serious 60-to-65-degree slant.
3. YOUR DRIVER AND FAIRWAY WOODS
Drivers are notoriously hard to hit straight, but any long fairway without a close and abrupt dogleg begs for distance. A driver you can control is your best bet.
Fairway woods follow a driver in distance with shallower heads and a lower sweet spot for balls on turf and not a tee. You'll use them after a decent shot on a long par five, or on shorter holes after a poor tee shot. Three-woods offer 12 to 17-degree loft (your longer shot) and a 5-wood 18 to 23 degrees for a shorter shot.
4. IRON PLAY
Irons fill most of your bag with thin faces for slashing through rough that still gain long distances. But you won't use them all each round. The higher the number, the higher the loft and degree of pitch on the clubface. Most players manage their 7-iron quite well. It's very forgiving and one of the most versatile clubs. Kind of like the perfect spouse when your round runs long and you're late for dinner.
Each club from 3 to 9 offers a specific distance with a quality swing and strike. To get comfortable, try the River's Edge driving range and practice with each club.
As for those old 1 and 2 irons, they've mostly been replaced by an easier-to-hit hybrid club. A 1-hybrid can offer a low loft of 14 degrees, while a 5-hybrid can have a loft as high as 28 degrees.
FOR EXPERIENCED GOLFERS
Choosing the right club is easier for the skilled golfer, but that's really a function of practice and experience. Some hardened veterans hit a 1 and 2 iron straight like an arrow. Others have enthusiastically taken to hybrid clubs, even to the extent of leaving a standard 5-wood behind.
Those players often use the back boxes and know the right club for the second tee on each hole – when you double back on a 9-hole course that provides two sets of tee boxes. It's all experience.
That talent allows them to use their driver under the right conditions for a fairway strike. When the Big Bertha drivers came out, most players failed to get the most out of them. Experienced golfers did, and they may also benefit from head manufacturing for woods that offer a draw, offset, and neutral design.
Players with a strong, fast swing can employ drivers with a loft of 8 to 9 degrees, which adds serious distance for those with great control. That control is mandatory if you're using high-spin golf balls or irons with grooves designed for a higher spin.
Mid to high handicappers benefit most from the control of low spin irons. Low handicappers get the added distance and control, plus the ability to attack flags and get up-and-down regularly since the high spin delivers great backspin rpm.
Like everything, experience comes with practice.